Eddie guitar up for auction next month



NEW YORK — Eddie Van Halen's 1982 Kramer Frankenstrat is among items up for bid. The handmade, red-and-white guitar was used during Van Halen's 1982-1983 Diver Down Tour and recording of its most successful album, "1984."
Van Halen's signature is inscribed on the guitar's neck. Its presale estimate is $100,000 to $150,000. Part of the proceeds will benefit guitarist Jason Becker, who has Lou Gehrig's Disease.
Here is the full listing.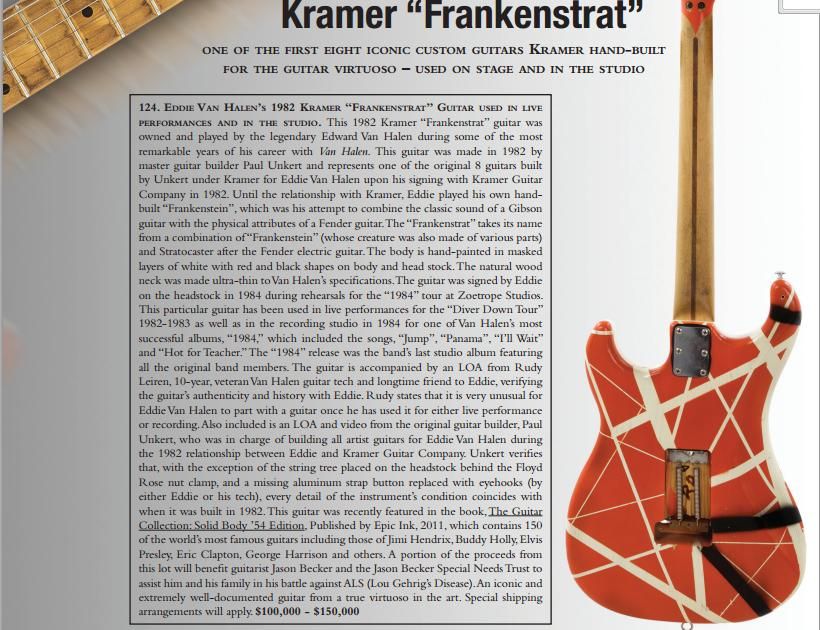 124. Eddie Van Halen's 1982 Kramer "Frankenstrat" guitar used in live performances and in the studio. This 1982 Kramer "Frankenstrat" guitar was owned and played by the legendary Edward Van Halen during some of the most remarkable years of his career with Van Halen. This guitar was made in 1982 by master guitar builder Paul Unkert and represents one of the original 8 guitars built
by Unkert under Kramer for Eddie Van Halen upon his signing with Kramer Guitar Company in 1982. Until the relationship with Kramer, Eddie played his own handbuilt "Frankenstein", which was his attempt to combine the classic sound of a Gibson guitar with the physical attributes of a Fender guitar. The "Frankenstrat" takes its name from a combination of "Frankenstein" (whose creature was also made of various parts) and Stratocaster after the Fender electric guitar.

The body is hand-painted in masked layers of white with red and black shapes on body and head stock. The natural wood neck was made ultra-thin to Van Halen's specifications. The guitar was signed by Eddie on the headstock in 1984 during rehearsals for the "1984" tour at Zoetrope Studios.

This particular guitar has been used in live performances for the "Diver Down Tour" 1982-1983 as well as in the recording studio in 1984 for one of Van Halen's most successful albums, "1984," which included the songs, "Jump", "Panama", "I'll Wait" and "Hot for Teacher." The "1984" release was the band's last studio album featuring all the original band members. The guitar is accompanied by an LOA from Rudy Leiren, 10-year, veteran Van Halen guitar tech and longtime friend to Eddie, verifying the guitar's authenticity and history with Eddie. Rudy states that it is very unusual for Eddie Van Halen to part with a guitar once he has used it for either live performance
or recording. Also included is an LOA and video from the original guitar builder, Paul Unkert, who was in charge of building all artist guitars for Eddie Van Halen during the 1982 relationship between Eddie and Kramer Guitar Company. Unkert verifies that, with the exception of the string tree placed on the headstock behind the Floyd Rose nut clamp, and a missing aluminum strap button replaced with eyehooks (by either Eddie or his tech), every detail of the instrument's condition coincides with when it was built in 1982. This guitar was recently featured in the book, The Guitar Collection: Solid Body '54 Edition, Published by Epic Ink, 2011, which contains 150 of the world's most famous guitars including those of Jimi Hendrix, Buddy Holly, Elvis Presley, Eric Clapton, George Harrison and others. A portion of the proceeds from this lot will benefit guitarist Jason Becker and the Jason Becker Special Needs Trust to assist him and his family in his battle against ALS (Lou Gehrig's Disease). An iconic and extremely well-documented guitar from a true virtuoso in the art. Special shipping
arrangements will apply. $100,000 - $150,000
Also listed in the auction is Eddie Van Halen handwritten musical notation to his iconic guitar solo "Eruption."Eddie Van Halen handwritten musical notation to his iconic guitar solo "Eruption."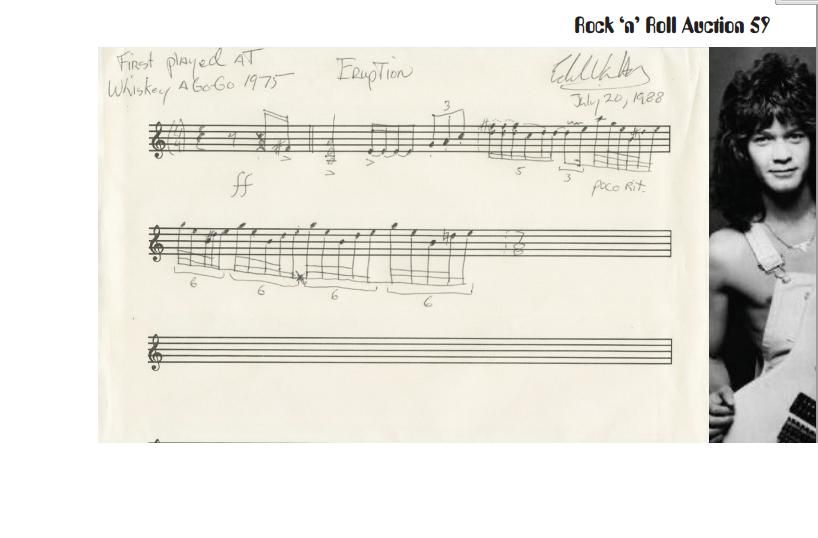 221. Eddie Van Halen of Van Halen handwritten signed music notation For "Eruption". (1988) Notation signed on 10 x 13 in. printed music paper leaf. Under the title, "Eruption" Van Halen has handwritten musical notation for his song, in black ink, on the first and second staffs. Van Halen has noted in the upper left corner of the page, "First played at the Whiskey A Go-Go 1975". Signed upper right, "Eddie Van Halen". Dated,"July 20, 1988". John Stix believes "Eruption" to be the most played, imitated and revered solo electric guitar piece in history. In fine condition.
$4,000 - $6,000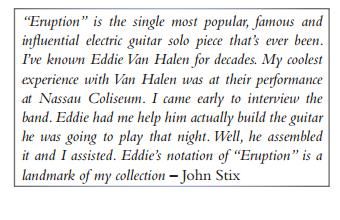 Other items on sale at the auction include
Elvis Presley's diamond & platinum wedding ring from his marriage to Priscilla.
• Elvis Presley stage-worn ornate belt from his black "Conquistador" performance jumpsuit.
• Bob Dylan handwritten lyrics for "I Want You" used as he was recording the song in 1966.
• John Lennon vintage Beatles stage-worn D.A. Millings custom-made suit.
• (6) Vintage color transparencies of The Beatles on The Ed Sullivan Show, sold with copyright.
• Jim Morrison unpublished 100-page handwritten notebook from his last days in Paris, 1971.
• Jim Morrison handwritten lyrics to The Doors' "Riders on the Storm" – the last song Morrison would record before his
untimely death in 1971.
• Jimi Hendrix signed bill dated July 29, 1969 to pay Gypsy Sun and Rainbows band mates who, 2 ½ weeks later, would play with
Hendrix at Woodstock.
• Robert Plant handwritten lyrics to Led Zeppelin's "Stairway to Heaven."
• Roger Waters handwritten lyrics, with artwork, for Pink Floyd's "The Wall."
• Joe Perry's handwritten musical notation from Aerosmith's "Walk This Way."
• Michael Jackson's MTV "Moonman" award for Best Choreography for Thriller.
• Michael Jackson original costume worn at the 1981 American Music Awards where he accepted two awards for his first solo
album Off the Wall.
• Whitney Houston signature "Queen of the Night" costume worn in the film The Bodyguard.
The catalog is available from
https://www.profilesinhistory.com/wp...9RRM-final.pdf